DC Unlimited : World of Warcraft – Series 1 – Chaman orc Rehgar Earthfury
Date : Mercredi 16 mars 2011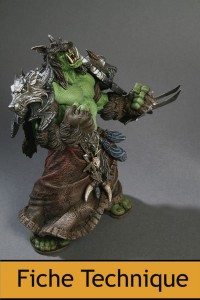 Reghar Earthfury est un personnage de la bande-dessinée World of Warcraft et DC Comics a donc décidé d'en réaliser une figurine comme il l'a fait pour les autres personnages principaux de cette BD (à part celle d'Illidan qui n'est pas dans le comics original).
Rehgar Earthfury
Rehgar Eatthfury est un personnage assez paradoxale de la bande-dessinée World of Warcraft. De prime abord, il semble antipathique car il mène une troupe de gladiateurs, qui ne on une situation guère différente de celle des esclaves. Cependant, il n'hésite pas à les aider et autorise par exemple, Lo'gosh ou Broll à aller visiter Piton-du-tonnerre, la capitale des taurens. De même, il semble accepter leur départ mais décide de ne pas leur simplifier la tâche en laissant la garde les pourchasser.
Par la suite, on ne sait comment, il parvient à devenir un des conseillers avisés de Thrall puis de Garrosh à qui il sert plus ou moins de chaperons.
La figurine
Nous recherchons des possesseurs de la figurine pour nous donner plus d'informations sur la qualité du produit (finition, taille exacte, défaut, ressemblance).
Cette figurine de Rehgar Earthfury permet de retirer son casque afin de voir sa tête en complet (attention, à ne pas le perdre).
Galerie