Box Collector 5 : Mists of Pandaria (World of Warcraft)
Date : Lundi 15 octobre 2012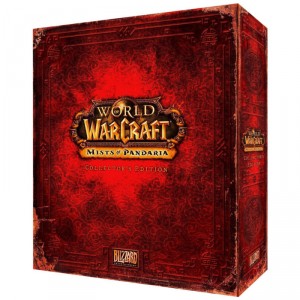 L'extension Mists of Pandaria de World of Warcraft a eu comme pour les précédents jeux de Blizzard une version collector.  
Le contenu de ce type de Box est devenu classique : un DVD making of (avec maintenant un Blu-ray), l'OST, un art-book, un tapis de souris et des bonus numériques. Les fans apprécieront de pouvoir replonger dans l'univers de World Of Warcraft avec ses produits bonus.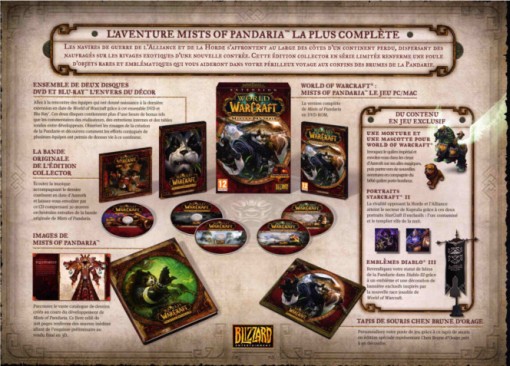 Contenu
Contenu spécial
La box collector de Mists of Pandaria contient : 
Un DVD et un blu-ray Making of
L'OST avec les nouvelles musiques de l'extension
Un artbook
A côté de cela, le coffret permet d'avoir 1 monture, 1 mascotte (World of Warcraft), 1 bannière (Diablo) et des portraits d'unité (Starcraft).
Le tapis de souris
Le tapis de souris fourni avec cette box collector représente le fameux Chen (vu dès Warcract 3) et reprend une des images promotionnelles du jeu.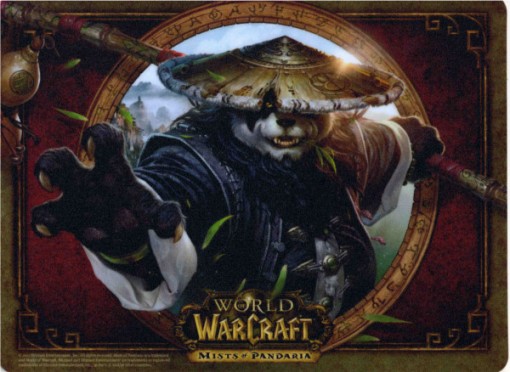 Pour conclure
Sans surprise, ce coffret collector ravira tous les fans de World of Warcraft et de l'univers asiatique de Mists of Pandaria.
Le plus grand défaut du coffret étant la difficulté à le trouver car il n'était pas commandable en boutique (il fallait passer par des sites internet) et aucune boutique physique n'annonçait sa sortie. Cependant, nous avons pu constater qu'il était trouvable dans des magasins après sa sortie. 
Concernant la sortie du jeu, notons un fait qui nous étonne : nous avons reçu le coffret 4 jours après la sortie du jeu. Vu que ce sont les serveurs qui autorisent à jouer, rien n'empêchait l'éditeur de faire parvenir plus tôt le coffret ce qui aurait permis de profiter des bonus tels que le CD et le DVD pour attendre en douceur la sortie du jeu.
Packaging
Blizzard continue d'utiliser un packaging rappelant un ancien livre comme pour les autres box collector de World of Warcraft. Le collectionneur sera donc particulièrement content car les 5 boîtes forment un tout cohérent particulièrement réussi.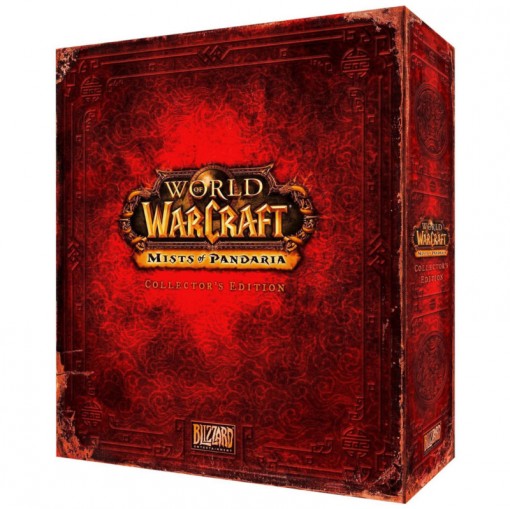 Galerie