Casque Soundblaster World of Warcraft
Date : Vendredi 15 juillet 2011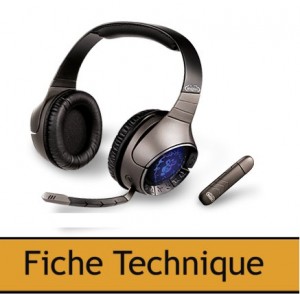 Tous les joueurs de MMO le savent : pour réussir un combat, le plus important est la réactivité et la communication entre les joueurs. Un casque est donc souvent un des premiers achats des joueurs et le fabricant de matériel audio Soundblaster propose deux casques officiels World of Warcraft.
Nous recherchons des possesseurs des casques soundblaster World of Warcraft pour nous donner plus d'informations sur le produit (qualité, facilité de programmation, réactivité, défaut, confort …).
Présentation des modèles
SoundBlaster a sorti deux modèles du casque :
Ces casques sortent du lot par la possibilité de modifier les écouteurs : de base, les deux casques sont vendus avec une image de la Horde et l'Alliance mais des extensions des produits donnent accès à de nouvelles images. Pour permettre une meilleure « customisation », le fabricant a fourni un outil pour configurer la lumière sortie du casque afin de donner une autre teinte chromatique aux images.
Les fonctions de base du casque (gestion du son, pause, …) sont accessibles directement depuis les écouteurs.
Caractéristiques techniques
Voici les informations fabricants :
Casque
Driver Units : 40mm Neodymium Magnet
Frequency Response : 20Hz ~ 20kHz
Impedance : 32 ohms
SPL (1kHz) : 112dB
Microphone
Microphone Type : Noise-Canceling Condenser
Frequency Response : 100Hz ~ 7kHz
Impedance : 2.2kohms
Sensitivity@ 1kHz : -48 dBV/Pa (Uni-directional)
Les lentilles en plus
La boutique officielle propose d'acheter de nouvelles lenses au prix unitaire, un peu cher il faut le reconnaître, de 13 euros. Voici les visuelles vendues :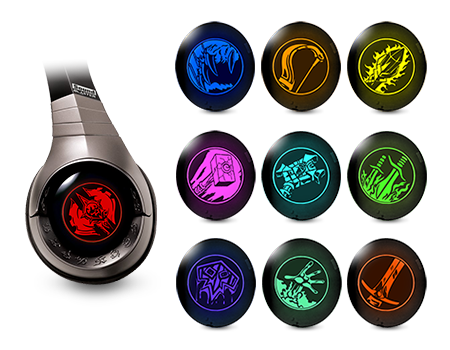 Présentation officielle
Galerie