DC Unlimited : World of Warcraft – Series 1 – Elfe de sang voleuse Valeera Sanguinar
Date : Mercredi 16 mars 2011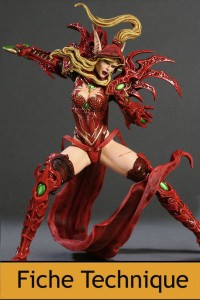 Dans sa première collection sur World of Warcraft, l'éditeur et fabricant de figurines DC Comics s'est attaché à réaliser des produits sur la bande-dessinée qu'il a sortie.
Ceci explique pourquoi l'elfe de sang voleuse Valeera Sanguinar est mise en avant dès la série numéro 1 car c'est le personnage présent dans chaque volume de l'histoire.
Valeera Sanguinar
Valeera Sanguinar est un des personnages les plus intéressants de la bande-dessinée World of Warcraft car elle est complexe. De prime abord, elle semble directe et sûre d'elle-même mais rapidement son besoins de magie des arcaniques la submerge et elle se retrouve en proie à des crises de manque, comme un junkie. Au fil de la série, son caractère est changeant et on apprendra son tragique destin d'orpheline puis son statut de gladiateurs, qui ne vaut guère mieux qu'un esclave, avant de suivre Lo'gosh et de l'aider à retrouver son trône.
En chemin, elle sera maudite par un démoniste elfe de sang qui lui imposera un démon qui la tentera encore plus et lui fera attaquer ses amis. Cependant, il deviendra un allié contre Cho'gall quand Valeera était partie retrouver Med'an, le  fils de Garona . En effet, Valeera ressent une compassion pour la demi orc qui, comme elle, n'a pas de famille avec  des loyautés contre nature. Grâce à l'aide du démon, Valeera s'en est sortie vivante en réalisant sa mission. A la fin de la série, son destin est inconnu.
La figurine
Nous recherchons des possesseurs de la figurine pour nous donner plus d'informations sur la qualité du produit (finition, taille exacte, défaut, ressemblance).
Galerie