Partition de musique piano / voix World of Warcraft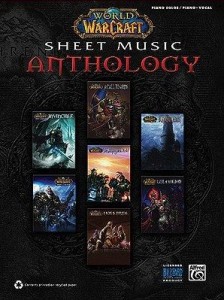 Tous les joueurs du MMO World of Warcraft sont d'accord sur le fait que les musiques du jeu sont extraordinaires et permettent une bonne immersion dans le jeu, même s'il faut également reconnaître que rester 2 ans avec les mêmes morceaux peut rendre fou.
Pour prolonger l'expérience des musiciens, la maison spécialisé dans l'édition de partition Alfred Music Publishing a sorti un recueil de partition piano et voix.
Nous recherchons des possesseurs de ces paritions World of Warcraft pour nous donner plus d'informations sur le produit (qualité d'impression, facilité d'accès, ressemblance, …).
Présentation des partitions World of Warcraft
Les morceaux recouvrent les morceaux de musique des 2 premières extensions (Légion Ardente et La colère du roi liche) et du cœur du jeu. On retrouve en particulier le morceau de la complainte des bien-nés (dont nous parlons dans notre page sur Sylvana Coursevent) nommé en anglais Lament of the Highborne.
| | |
| --- | --- |
| Totems of Grizzlemaw | Russell H. Brower (compositeur) |
| Mountains of Thunder | Glenn L. Stafford (compositeur) |
| Lion's Pride | Jason C. Hayes (compositeur) |
| Invincible | Russell H. Brower (compositeur); Jason C. Hayes (compositeur); Neal A. Acree (parolier); Derek M. Duke (parolier) |
| Karazhan | Russell H. Brower (compositeur) |
| Wrath of the Lich King | Russell H. Brower (compositeur); Jason C. Hayes (compositeur) |
| The Shaping of the World | Jason C. Hayes (compositeur) |
| Seasons of War | Jason C. Hayes (compositeur) |
| A Call to Arms | Jason C. Hayes compositeur |
| Lament of the Highborne | Russell H. Brower (compositeur), Derek M. Duke (compositeur) |
| Gates of the Black Temple | Russell H. Brower (compositeur) |
| Pig and Whistle | David Arkenstone (compositeur) |
| Garden of Life | Russell H. Brower (compositeur) |
Ces morceaux sont accessibles à l'unité sur le site de l'éditeur ou avec d'autres instruments de musique : http://www.alfred.com/Search/SearchResults.aspx?q=warcraft&type=All
Galerie