Souris World of Warcraft SteelSeries
Date : Vendredi 6 mai 2011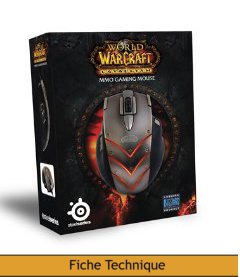 Sous licence officielle Blizzard, le fabricant de matériel informatique SteelSeries a sortie une gamme de souris dédiée au jeu vidéo World of Warcraft.
Nous recherchons des possesseurs de la souris World of Warcraft pour nous donner plus d'informations sur la qualité du produit (qualité, réactivité, défaut).
Présentation
D'après le constructeur, la grande force de ses souris est de pouvoir être configuré directement dans le jeu vidéo facilitant ainsi la prise en main. En plus des habituels boutons gauches / droits et de la molette pour scroller, la souris possède une dizaine de boutons configurables dans le jeu afin de lancer plus rapidement des sorts ou des macro.
De plus, cette souris World of Warcraft permet de sauver 10 profils afin de conserver des configurations optimales.
A noter que cette souris est également utilisable sur d'autres applications.
Informations techniques
Max. résolution: 3200 DPI
Max. accélération: 20 g
Max. speed: 65 inches/second
Max. USB report rate: 1000 hz / 1ms
USB data format: 16-bit
Windows Vista, Windows XP, or Windows 2000
100 MB d'espace disque dur
128 MB RAM
Illumination : 16 million de variantes avec 3 niveau d'intensité
Câble intégré
Modèles
Galerie