OST 3 : La Colère du Roi Liche
Date : Lundi 26 juillet 2010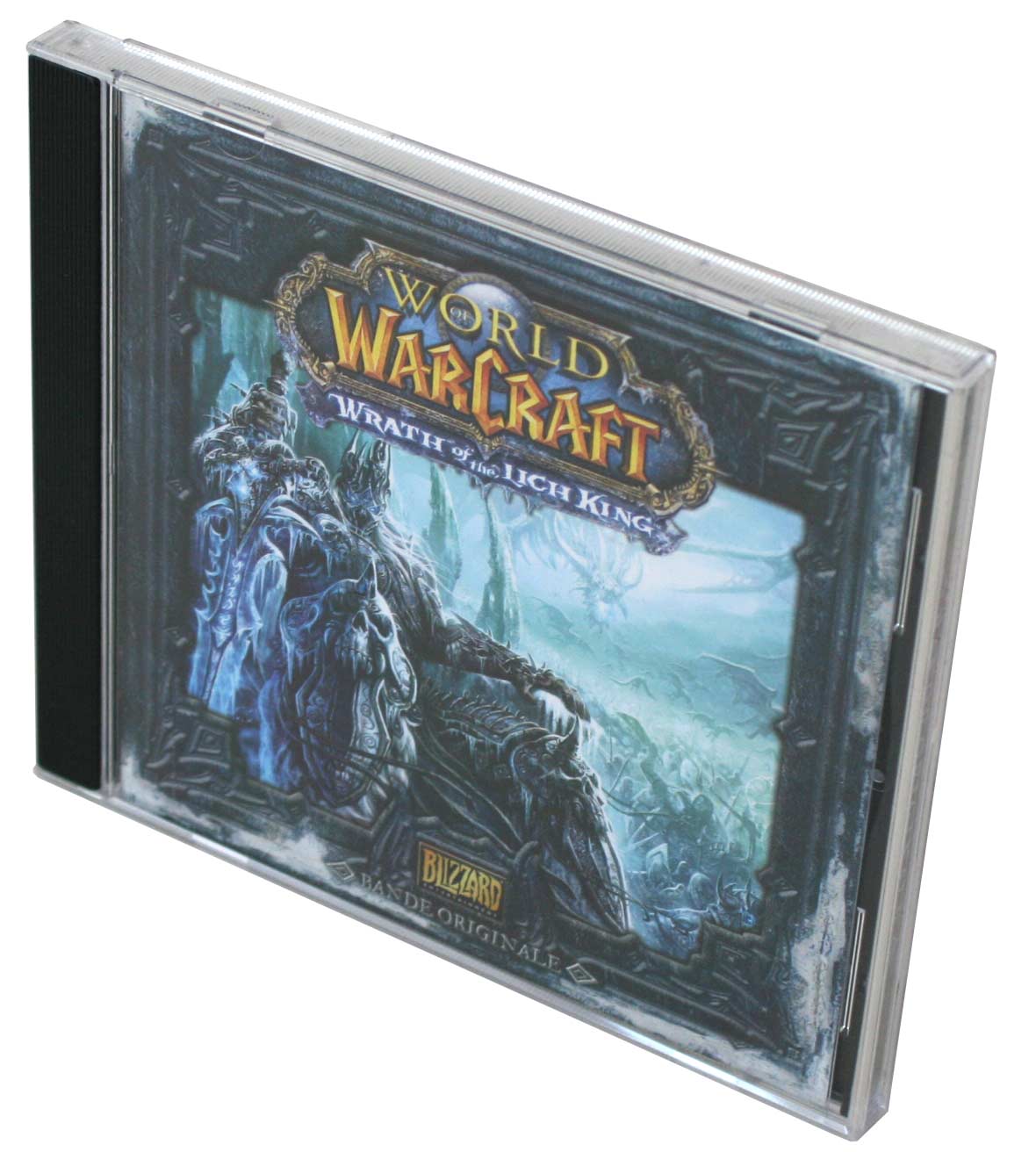 Vendu en exclusivité avec la box collector de l'extension la Colère du Roi Liche, l'OST du jeu reprend les principales musiques du Norfendre.
Avis
Le CD reprend toutes les musiques phares utilisée dans l'extension et il ravira les joueurs. Ainsi, le premier morceau est le morceau de l'écran de chargement, il est archi entendu mais il se laisse très bien écouter.
De même, le morceau Dalaran est superbe.
Le morceau sur le Portail du Courroux est également présent. On ne l'entend qu'une fois dans le jeu mais le poids du scénario et l'aspect dramatique de la scène la rend inoubliable
Les non joueurs apprécieront également car les morceaux se laissent écouter avec plaisir hors contexte de jeu. Attention malgré tout : les joueurs doivent sauver le monde et les morceaux ont une tonalité sombre et peuvent détonner si vous mettez le CD dans un mauvais contexte.
Malgré tout, la qualité est présente, tout comme la richesse des morceaux et des instruments.
Le seul point négatif est le CD en lui-même. Il faut reconnaître que le design de la boîte est assez quelconque car il reprend le dessin officiel de l'extension. Mais vu qu'il est avec la boîte collector, elle d'excellente facture, le design passe au second plan.
Playlist
Wrath Of The Lich King (Main Title) – 08 min 56
Dragons' Rest – 03 min 07
Arthas, My Son (Cinematic Intro) – 03 min 12
Path Of Tears – 07 min 15
Crystalsong – 01 min 52
Dalaran – 03 min 26
God Hunters – 03 min 34
Forged In Blood – 05 min 34
Mountains Of Thunder – 05 min 55
Secrets Long Forgotten (Exclusive Track) – 02 min 28
The Kalu'ak – 02 min 23
The Eye Of Eternity – 01 min 56
Garden Of Life – 03 min 28
The Culling – 03 min 42
Howling Fjord – 02 min 59
Rise Of The Vrykul – 01 min 22
Borean Tundra (Exclusive Track) – 01 min 58
Totems Of The Grizzlemaw – 05 min 36
The Wrath Gate (Cutscene Event; Exclusive Track) – 03 min 53
Angrathar's Shadow – 02 min 55
Assault On New Avalon – 02 min 15
Livret
Le livret contient les crédits des musiciens avec un petit texte de présentation de l'extension.
Cliquez les images ci-dessous pour les voir en grand. La résolution est suffisante pour lire ce qui est écrit dessus.
Et voici le dos du CD avec l'image de la playlist :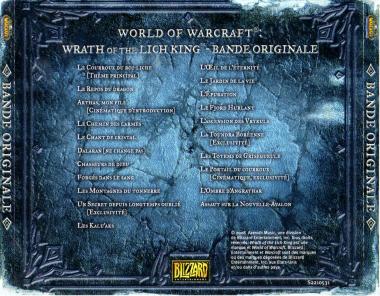 Galerie