Dark Factions (warcraft RPG)
Date : Vendredi 14 janvier 2011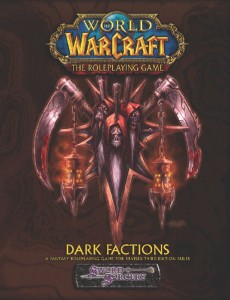 Présentation
Dark factions est un immense fourre-tout dans lequel les concepteurs du jeu ont mis les sujets sur lesquels ils n'ont pas pu parler auparavant. Ils rajoutent ainsi de nouvelles races (dont les nagas et les pandarens) et de nouvelles classes (comme les druides du cauchemar ou le mage naga). Comme pour les précédents ouvrages du jeu, Dark factions regroupe les informations techniques et le "background" de chaque race / classe rendant le livre intéressant à lire pour les joueurs en ligne.
L'autre grand axe de cet ouvrage est la présentation de nouveaux groupes qui sont des éléments centraux du jeu, comme les nains Sombrefer, la culture naga, l'aube d'argent, le cercle cénarien, le culte des damnés ou la confrérie du Thorium. Comme pour Lands of Mystery et Lands of Conflict,  cette partie est rédigée à travers les yeux de Brann Barbe-De-Bronze avec un net penchant pour l'Alliance. Le style est très direct et agréable à lire.
Ces textes sont complétés par de nouvelles créatures et des informations sur la magie, et le livre se finit sur deux scénarios prêts à l'emploi.
Malgré tout, devant le caractère fourre-tout de ce livre on est pris d'un certain malaise face à l'ouvrage car il regroupe vraiment tout et n'importe quoi afin de rajouter des sujets importants à l'univers mais n'étant pas présents dans les autres livres.
De plus, certaines informations sont déjà décrites dans d'autres livres, ainsi on retrouve un chapitre la croisade d'argent dans l'extension lands of conflict .
Cet ouvrage sort du lot pour les sujets évoqués qui pourront satisfaire aussi bien les joueurs papier que les intéressés de l'univers. Dommage cependant qu'il fasse vraiment "fourre-tout" avec un titre par moment trompeur (difficile de considérer l'aube d'argent comme "dark" car cette faction est une des plus positives du jeu).
Sommaire
Introduction (page 4)
Chapter 1: New Races (page 6)

Dragonspawn (page 6)
Dwarf, Dark Iron (page 8 )
Murloc (page 10)
Naga (page 12)
Pandaren (page 15)
Quilboar (page 17)
Satyr (page 19)
Tuskarr (page 21)
Vital Statistics (page 24)

Chapter 2: Class Options (page 25)

Equipment (page 25)
Variant Classes (page 26)

Aquatic Druid (page 26)
Druid of the Nightmare (page 26)
Martial Enchanter (page 27)
Dark Inscriber (page 27)
Arcane Alchemist (page 28)
Elementalist (page 29)
Contender (page 30)
Lone Wolf Runemaster (page 31)
Dungeoneer (page 31)
Aquatic shaman (page 32)
Shadowmage (page 32)

Racial Iconic Classes (page 32)

Goblin Tinker (page 33)
Naga Mage (page 34)
Priestess of the Tides (page 34)
Pandaren Wardancer (page 35)
Quilboar Thornweaver (page 35)
Satyr Hellcaller (page 37)

Creature Classes (page 38)

Dragon (page 39)
Flamewaker (page 41)
Nerubian (page 43)
Sea Giant (page 46)

Vital Statistics (page 48)
Feats (page 50)

Chapter 3: Prestige Classes (page 54)

Brewmaster (page 54)
Death Knight (page 57)
Dragonsworn (page 60)
High Divinist (page 63)
Naga Anomaly (page 66)
Pandaren Transcendent (page 69)
Subversive (page 72)
Scarlet Battle Mage (page 76)
Scarlet Inquisitor (page 78)
Vindicator (page 81)

Chapter 4: Magic (page 84)

Independent Faiths (page 86)

Azshara (page 86)
Hakkar the Soulfl ayer (page 86)
The Old Gods (page 88)
Xavius (page 88)
The Pantheon of the Zandalar Tribe (page 89)
The Cult of the Damned (page 89)

Spells (page 89)

Arcanist Spell List (page 89)
Mage Spell List (page 90)
Necromancer Spell List (page 90)
Healer Spell List (page 90)
Druid Spell List (page 90)
Priest Spell List (page 90)
New Healer Domains (page 90)
Spell Descriptions (page 91)

Magic Items (page 95)

Armor (page 95)
Rod (page 95)
Wondrous Items (page 96)
Set Items (page 98)

Chapter 5: Technology (page 100)

Races and Technology (page 100)
Tech-Mods (page 101)
Steam Armor Enhancements (page 103)
Technological Devices (page 104)

Chapter 6: History and Culture (page 112)

Dark Iron Dwarf History (page 112)
Dark Iron Dwarf Culture (page 113)
Goblin History (page 114)
Goblin Culture (page 115)
Naga History (page 118)
Naga Culture (page 119)
Quilboar History (page 120)
Quilboar Culture (page 121)
Satyr History (page 121)
Satyr Culture (page 122)
Tuskarr History (page 122)
Tuskarr Culture (page 123)

Chapter 7: The Factions (page 124)

The Argent Dawn (page 124)
The Atal'ai and Hakkari (page 127)
The Cenarion Circle (page 129)
The Cult of the Damned (page 131)
The Dark Horde (page 133)
The Darkmoon Faire (page 136)
The Defi as Brotherhood (page 139)
The Dragonfl ights (page 142)
The Earthen Ring (page 148)
The Explorers' League (page 150)
The Farstriders (page 152)
The Scarlet Crusade (page 154)
The Syndicate (page 158)
The Thorium Brotherhood (page 160)
The Twilight's Hammer (page 162)
The Zandalar Tribe (page 166)

Chapter 8: Dark Warriors (page 169)

Argent Dawn Forces (page 169)
Atal'ai and Hakkari Forces (page 170)
Cenarion Circle Forces (page 171)
Cult of the Damned Forces (page 171)
Dark Horde Forces (page 172)
Dark Iron Dwarf Forces (page 173)
Darkmoon Faire Forces (page 173)
Defi as Brotherhood Forces (page 174)
Dragon Forces (page 175)
Dragonspawn Forces (page 175)
Earthen Ring Forces (page (page 177)
Explorers' League Forces (page 177)
Farstrider Forces (page 178)
Goblin Forces (page 178)
Murloc Forces (page 180)
Naga Forces (page 180)
Pandaren Forces (page 181)
Quilboar Forces (page 183)
Satyr Forces (page 183)
Scarlet Crusade Forces (page 184)
Syndicate Forces (page 185)
Thorium Brotherhood Forces (page 186)
Tuskarr Forces (page 187)
Twilight's Hammer Forces (page 187)
Zandalar Forces (page 188)

Chapter 9: Creatures (page 190)

Arachnathid (page 190)
Clockwerk Goblin (page 192)
Couatl (page 193)
Dragon, Chromatic (page 194)
Dragon Turtle (page 196)
Hobgoblin (page 197)
Makrura Prawn (page 198)
Mur'gul (page 199)
Nerubian (page 202)
Pandaren (page 204)
Snap Dragon (page 205)
Spiderling Swarm (page 206)
Tube Wyrm (page 207)
Tuskarr (page 207)

Chapter 10: Adventures (page 209)

Goldknuckle (page 209)
The Lost Idol (page 217)
Galerie