Guide Bradygames : Atlas de l'extension numéro 2 – la Colère du roi liche
Date : Vendredi 3 juin 2011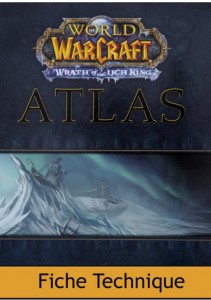 En partenariat avec Blizzard, l'éditeur Bradygames a sorti une gamme de guides sur World of Warcraft pour présenter au format papier le jeu. Le guide présenté couvre les cartes de la deuxième extension du jeu la Colère du Roi Liche sortie en 2008.
Nous recherchons des possesseurs de ce guide World of Warcraft pour nous donner plus d'informations sur le produit (qualité des données et de l'impression, illustration, intérêt, durée de vie, …).
Présentation du guide de l'extension la colère du roi liche
Cet atlas présente toutes les cartes du Norfendre (introduit pour La Colère du Roi Liche) avec les points d'intérêts (ville, transport, donneurs de quêtes, …). Un index permet de retrouver facilement les personnages du jeu.
Galerie