Warcraft 2 (cœur) : Tides of Darkness
Date : Mercredi 6 avril 2011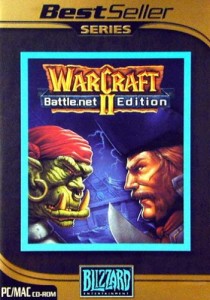 Warcraft 2 : Tides of Darkness est le cœur du jeu Warcraft 2 et propose 28 missions en solo réparties en 2 campagnes humains / orcs.
Présentation et critique
Synopsis
Après la chute d'Hurlevent, les orcs se préparent à attaquer les humains de Lordaeron. Cependant, ces derniers vont trouver des alliés pour lutter contre cette terrible menace.
Critique
Nous vous invitons à lire le critique du jeu Warcraft 2 pour plus d'informations
Histoire complète
Nous vous invitons à lire le résumé du livre Tides of Darkness pour l'histoire du jeu.
Liste des missions
Campagne des humains
Acte 1 : les côtes de Lordaeron

Hillsbrad
Embuscade à Tarren Mill
Southshore
L'attaque de Zul'Dare

Acte 2 : Khaz Modan

Tol Barad
Dun Algaz
Grim Batol

Acte 3 : les Northland

Tyr's Hand
La bataille de Darrowmere
Les prisonniers
Trahison et destruction d'Alterac

Acte 4 : le retour vers Azeroth

La bataille de Crestfall
L'assaut de Black Rock Spire
La Grande porte
Campagne des orcs
Acte 1 : les Mers de sang

Zul'Dare
Incursion à Hillsbrad
Southshore
Offensive sur Hillsbrad

Acte 2 : Khaz Modan

Tol Barad
Badlands
La chute de Stromgrade

Acte 3 : Quel'Thalas

La pierre runique de Caer Darrow
Le saccage de Tyr's Hand
La destruction de Stratholme
Zombies et carnages à Quel'Thalas

Acte 4 : Tides of Darkness

Le tombeau de Sargeras
Le siège de Dalaran
La chute de Lordaeron
Galerie