DC Unlimited : World of Warcraft – Series 2 – Druide elfe de la nuit Broll Mantelours
Date : Mercredi 16 mars 2011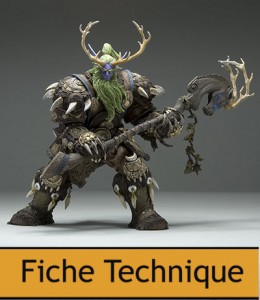 Broll Mantelours est la deuxième figurine de la collection numéro de DC Comics reprenant les personnages de la bande-dessinée World of Warcraft, l'autre étant le paladin Maraad. Le restant des figurines est soit des personnages exclusifs soit des personnages célèbres n'apparaissant pas dans la BD.
Broll Mantelours
Broll Mantelours est un druide elfe de la nuit qui a participé avec Tyrande et Malfurion aux combats contre la Légion Ardente pendant la troisième guerre au Mont Hyjal. Cependant, la mort de sa fille aux mains des démons le poussa dans des abîmes de dépression. Il échoua en tant que gladiateurs dans l'équipe de Lo'gosh et Valeera (dont la figurine est sortie dans la première série) menée par le chaman orc Reghar (également dans la même série). Il sortit de sa dépression en se battant pour reprendre possession de la statue de Remulos qu'il avait perdue et en trouvant dans Valeera la fille qu'il avait perdue. Il l'aida à combattre le manque d'énergie arcanique dont elle souffrait.
Il participa aux aventures aux côtés de Lo'gosh jusqu'à l'avant-dernier arc de la bande-dessinée World of Warcraft où il « sortit » de l'histoire afin de participer à la sauvegarde de Terdrassil aux côtés des autres druides. Ses aventures enchaînent donc dans le roman Stormrage où il fut en première ligne au côté de Tyrande et de Malfurion pour purifier le rêve d'Emeraude.
La figurine
Nous recherchons des possesseurs de la figurine pour nous donner plus d'informations sur la qualité du produit (finition, taille exacte, défaut, ressemblance).
Galerie