DC Unlimited : World of Warcraft – Series 2 – Guerrier humain Archilon Shadowheart
Date : Mercredi 16 mars 2011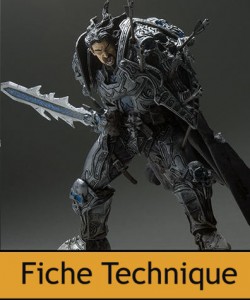 Le guerrier humain Archilon Shadowheart est une figurine de la série World of Warcraft numéro 2 de DC Comics.
Archilon Shadowheart
Archilon Shadowheart est un personnage exclusif à cette série de figurines car aucun autre média Warcraft ne parle de lui.
La figurine
Nous recherchons des possesseurs de la figurine pour nous donner plus d'informations sur la qualité du produit (finition, taille exacte, défaut, ressemblance).
La guerrier humain semble porter le T3 des sets d'armure guerrier obtenus en raidant dans le premier Naxxramas (de World of Warcraft : Vanilla). Cet ensemble d'armure s'appelle Tenue de combat du cuirassier. L'armure originale est portée par Alexandros Mograine (voir la série Porte-cendres).
L'épée serait l'item Le Froid dévorant également obtenu à Naxxramas. Elle servirait de modèle à l'épée qui permet de vaincre Jenkins dans l'épisode de South Park se passant dans World of Warcraft.
Galerie