Warcraft jeux de rôle : livre de règle
Date : Mardi 11 janvier 2011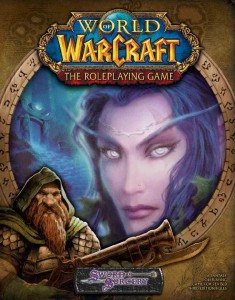 Ce Livre de règle (2ème édition) est le coeur du
jeu de rôle papier Warcraft
. Il propose les règles du jeu pour créer les personnages, pour interagir avec l'environnement, pour lancer des sorts de magie et pour combattre. Il prend également le temps de décrire le monde, son histoire, sa géographie et ses peuplades.
Il contient 400 pages.
Présentation
Pour se lancer dans le jeu de rôle papier, lire ce tome est une obligation car il pose tous les jalons nécessaires pour jouer. Pas suffisants car il ne présente pas les ennemis que le joueur pourra rencontrer (ce sera fait dans le tome Manual of Monsters). Malgré tout, la quantité d'informations à ingérer est immense et permet d'avoir toutes les donnéess nécessaires pour jouer : créer son personnage, utiliser des objets, réussir ses actions. Ce livre est par moment rébarbatif à lire car il contient beaucoup de tableaux pour gérer certaines situations. Par exemple, l'ensemble des sorts prend 80 pages avec leur effet, leur fonctionnement et leur utilisation.
On regrettera cependant le manque d'exemples concrets, on aurait ainsi bien voulu voir une fiche de personne remplie de A à Z avec des descriptions de combats et de la gestion des sorts. Ce livre est donc tourné vers des joueurs connaisseurs rôliste. Malgré tout, les informations données sont suffisamment accessibles pour tous et après quelques tentatives maladroites, la prise en main sera parfaite.
Certaines informations présentées sont très intéressantes et permettent de voir le monde de Warcraft sous un angle nouveau et non plus plongé dans l'action comme dans World of Warcraft ou Warcraft 3. Le livre prend des distances par rapport à l'action et pose de manière neutre l'univers.
A la fin de la lecture, on sera comblé car tous les mécanismes de base ont été décrits  et le monde sera suffisamment décrit pour pouvoir commencer une campagne.
Sommaire
Credits (page 1)

Introduction (page 4)
General Introduction (page 5)
Creating Characters (page 7)
History and Peoples (page 9)
The World of Warcraft (page 13)
Cosmology (page 22)

Part I: Heroes (page 26)

Chapter 1: Abilities (page 27)
Chapter 2: Races (page 33)

Dwarf, Ironforge (page 34)
Elf, High (page 36)
Elf, Night (page 38)
Gnome (page 40)
Goblin (page 41)
Human (page 43)
Orc (page 45)
Tauren (page 46)
Troll, Jungle (page 49)
Undead, Forsaken (page 51)

Chapter 3: Classes (page 54)

Arcanist (page 56)
Mage (page 59)
Necromancer (page 60)
Warlock (page 60)
Barbarian (page 62)
Healer (page 65)
Druid (page 67)
Priest (page 70)
Shaman (page 71)
Hunter (page 73)
Paladin (page 77)
Rogue (page 80)
Scout (page 83)
Tinker (page 86)
Warrior (page 88)
Multi-Class (page 90)

Chapter 4: Prestige Classes (page 92)

Archmage of Kirin Tor (page 92)
Assassin (page 93)
Beastmaster (page 95)
Berserker (page 97)
Duelist (page 99)
Elven Ranger (page 100)
Fel-Sworn (page 103)
Gladiator (page 104)
Infi ltrator (page 106)
Mounted Warrior (page 108)

Chapter 5: Skills (page 112)
Chapter 6: Feats (page 138)
Chapter 7: Description (page 163)

Part II: Equipment (page 175)

Chapter 8: Equipping a Character (page 176)
Chapter 9: Weapons, Armor and Shields (page 178)
Chapter 10: Goods and Services (page 195)
Chapter 11: Technological Devices (page 203)

Part II: Playing the Game (page 216)

Chapter 12: Combat (page 217)
Chapter 13: Abilities and Conditions (page 242)

Part IV: Magic (page 247)

Chapter 14: Magic in Warcraft (page 248)
Chapter 15: Spellcasting (page 253)
Chapter 16: Spell Lists (page 263)

Arcanist Spells (page 263)
Mage Spells (page 265)
Necromancer Spells (page 265)
Warlock Spells (page 266)
Healer Spells (page 267)
Druid Spells (page 268)
Priest Spells (page 269)
Shaman Spells (page 270)
Paladin Spells (page 274)

Chapter 17: Spells (page 275)

Part V: Campaigns (page 358)

Chapter 18: Warcraft Campaigns (page 359)
Chapter 19: Choosing Sides (page 368)
Chapter 20: Community Rules (page 377)

Appendix One:
Legal Information (page 395)
Index (page 396)
Character Sheet (page 399)
Galerie