Drapeau Horde et Alliance de World of Warcraft
Date : Vendredi 3 juin 2011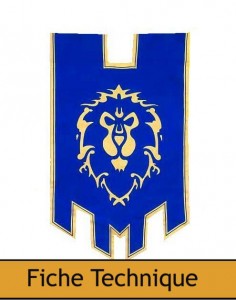 En collaboration avec Blizzard, le fabricant d'objet moyen-âgeux Museum Replicas a sorti des drapeaux à l'effigie de l'Alliance et de la Horde, les 2 factions des joueurs.
Plus d'information ci-dessous.
Nous recherchons des possesseurs de ces drapeaux World of Warcraft pour nous donner plus d'informations sur le produit (qualité, réutilisation, durée de vie, …).
Présentation des tabards World of Warcraft
Les tabards sont 100% tissés en coton (« weave cotton« ) et mesurent 76cm de haut pour une largeur de 58cm.
Les différents modèles
Note :
Les prix indiqués ne prennent pas les surcoûts liés au transport.
Galerie