Interview of Ein Lee (English version)
Date : Samedi 7 juillet 2012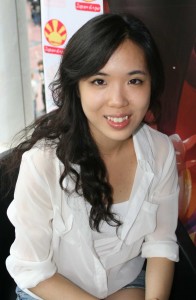 Ein Lee is a Taiwanese artist born February 3rd, 1991 which has become known in France through the beautiful illustrations she has drawn for the publisher of children's books Nobi Nobi. Although the three books she has made are pure wonders, they give us only a glimpse of her knowledge. Just browse over her art book The Art of Ein Lee to realize that her style is much more complete than what we perceive.
Since her early work, the editorial staff of Otakia does not hide its enthusiasm for the artist. Her coming to France for Japan Expo was the perfect opportunity to meet her and find out more about her.
How did you take up illustration, have you followed a graphic art school ?
No, I learned everything by myself practicing drawing during my free time since I was little. Currently even my graduate studies are not related to graphic because I am studying foreign languages.
This is surprising, why choose such an orientation?
As my father was a diplomat, I have lived in many different country which has developed my interest in languages. At the age of 7 years, I moved to the United States and I lived there for 6 years in schools with Americans. After that, I returned to Taiwan for 2 years where I studied chinese, then I moved back to live in Thailand for 4 years where I followed a course in English in an international school.
Because I mastered English, I oriented myself to studying languages. To be honnest, I made this choice because it was less trying for me, but also because these studies include literature which gives me the opportunity to study texts from different eras and different countries. This is exciting to read, but above all, it gives me a lot of inspiration as an artist.
I think when you study things that are not directly related to the graphic arts, you can open your horizons and learn more than when you are only focused on your area of expertise.
Is English the only language you learn?
I am currently studying Japanese because I am keen about this country and next year, I also start the learning of French. This will allow me to be  closer to my French public ;)
What attracts you in Japanese culture?
I am fascinated by Japan, I've already been there three times and was the last time in April to see the cherry blossoms. I appreciate their sense of aesthetics, everything must be beautiful, even their food. I also have a great interest in contemporary culture such as anime and manga. I love Evangelion, Kenshin the Vagabond, Gundam, Fruit Basket, Versailles no Bara…
However, as I also grew up in the U.S., I am also permeated by American culture. I love comics, animated series like The Simpsons, but also TV series like The Walking Dead, True Blood and many others.
Have you hesitated between languages or art studies?
No, I did not hesitate, but I confess that now I'm seriously thinking to do a school in graphic arts. I don't know yet which one, but I have several tracks in head.
It is rather surprising that want to do this type of school. When wee see what you have learned by yourself, you will find art school a little bit boring. Maybe some teachers will be less competent than yourself. What are you hoping to learn there?
I think I'm missing some basics. I'd like to make sketches of naked, the oil painting, experimenting new techniques. I know the style « manga » or « Comics » is not very well accepted in arts school, but it depends on the attitude with which you do your studies. I won't go there to have a degree, become famous or draw like Michelangelo. I want to learn graphics techniques that will allow me to advance my own style and I don't care about what people say or think of my « manga » or « cartoon » style.
I will try to find a school that fit me, a one with an open mind.
Looking on the web, I came across animations made by students of Les Gobelins and I was impressed by their works, I know it is very difficult to get into this school, but I'd love to try my hand one day in animation.
Your parents were they receptive to your artistic work?
My parents have always looked openminded at my drawings, but it was difficult for them to assess my level or imagine me living with my art.
My father began to revise his judgment after the first publications of Nobi Nobi, he said that his daughter may have had talent, and since he supports me in my efforts.
I really want to thank my parents because they always had a positive attitude and push me forward in this area.
How was your first contact with Nobi Nobi?
They contacted me first. They had discovered my work on the web and sent me an email where they presenting their publishing company and explained they wish to work with me. As the style of my artwork was exactly what they wanted, they gave me a test.
For me it was like a dream come true. I made suggestions based on what they wanted, they gave me feedback by email and then I adjusted my drawings based on their remarks and finally I got the job.
I'm very grateful because they were very patient and left me time to get my bearings. They have a very clear vision of the narrative and composition of an image, I learned a lot from them and their kindness really touched me.
Working with them is special because everything is done only by email, before I came to Japan-Expo this year, I had never met them. So it is a delight to be here, I can see the all team and I can also be in contact with my audience and collect their feedback. This is very rewarding for me.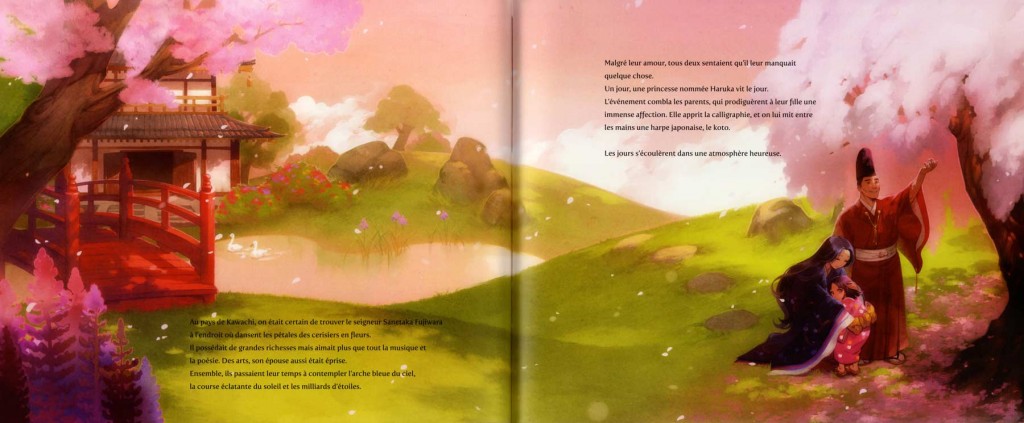 Your style has improve al lot since the first book, is that this evolution was influenced by Nobi Nobi?
Not directly, I am responsive to criticism and I try to improve. On the first book Princess Pivoine, I heard that the rendering was too « digital ». I asked myself how to give a more traditional look to make it more like a painting.
I then did a lot of different tests to try new techniques. I am not confined only on drawing for Nobi Nobi, I also worked a lot on personal illustrations as this gives me a greater area of freedom for experimentation.
So I think the evolution of my style comes mainly from my desire to try new things and move forward.
Does this motivation push you to develop a personal project?
I do have a project under development. On my Deviantart gallery, you can see many characters. They are part of a story that I'm maturing. Gradually, as I do illustrations, history and the universe become clearer and friendships that govern the characters are becoming clearer too.
I am still writing the script, but I hope I can soon start the project. This may be in the form of a manga published on paper or on the web but regardless of the medium, what counts is being able to complete this project.
You talked about friendships between the characters, is friendship is a strong theme of your story? Is this related to the fact that as you moved around a lot in your childhood, and maintaining friendships over time was difficult after moving?
Indeed, friendship is a major focus of my story, the characters are very close friends. It is clear that subconsciously my experience has strongly influenced me. I never had any problem go to the people and make friends, but I really regretted not having managed to keep contact with many of them.
Because I haven't been able to keep close friends, this fiction is perhaps a way for me to explore a very intimate and strong friendship as I'd love to have.
Thank you for this fascinating interview and we hope that your projects will be acheived rapidly as we look forward to reading them.
Thank you :)
Interview made during Japan-Expo in France on July 7th, 2012
Home page of Ein Lee: http://einlee.net/top.html
Books published in France :
Le secret de la grue blanche >>
La princesse au bol enchanté >>
Galerie